Mapping the future of marine ingredients
2016.12.16
To read the article in the Eurofish Magazine 6 2016 click here.
The fishmeal and fish oil industry must juggle several different factors, including environmental, biological, commercial, and legal, in order to thrive. While the aquaculture sector, the biggest user of fishmeal and fish oil, is growing the proportion of marine ingredients in fish feed is falling. On the other hand more lucrative uses are being found for the raw material that is used for the production of fishmeal and fish oil. A recent conference in Hirtshals, Denmark brought together several participants with an interest in fishmeal and fish oil in an attempt to chart the future course of the industry.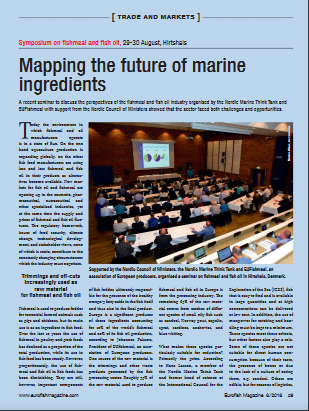 Fastsættelse af fiskerimulighederne for 2017
2016.12.14
EU's fiskeriministre er efter forhandlingerne ved Rådsmødet for Landbrug og Fiskeri den 12. og 13. december nået til enighed om kvoterne for 2017.
Marine Ingredients Denmark er tilfredse med kvoterne, som tyder på et fornuftigt år for det pelagiske fiskeri. Dog afventes kvoterne for brisling og tobis i kalenderåret 2017 fortsat. Vi forventer en stigning i brislinge-kvoten, når den nye ICES-rådgivning kommer til foråret. Tobiskvoten fastsættes i begyndelsen af det nye år.
Den samlede oversigt over kvoterne for 2017 kan ses HER.