World Fisheries and Aquaculture – Sustainability in action
2020.6.10
The FAO State of World Fisheries and Aquaculture was released, quite fittingly, on World Oceans Day, June 8. With the subtitle "Sustainability in action" the report captures the overall theme in the current aquaculture industry. 
In the report, FAO states that "fishmeal and fish oil are still considered the most nutritious and most digestible ingredients for farmed fish, and fish oil represents the richest available source of long-chain polyunsaturated fatty acids (PUFAs), which perform a wide range of critical functions for human health. However, their inclusion rates in compound feeds for aquaculture have shown a clear downward trend.
In 2018, about 88% (156 million tonnes) of world fish production was utilized for direct human consumption. The remaining 12 % (22 million tonnes) was used for non-food purposes, of which 82 % (or 18 million tonnes) was used to produce fishmeal and fish oil.
Global fish production is estimated to have reached about 179 million tonnes in 2018 ( Figure 1), with a total first sale value estimated at USD 401 billion, of which 82 million tonnes, valued at USD 250 billion, came from aquaculture production. Of the overall total, 156 million tonnes were used for human consumption, equivalent to an estimated annual supply of 20.5 kg per capita. The remaining 22 million tonnes were destined for non-food uses, mainly to produce fishmeal and fish oil. Aquaculture accounted for 46% of the total production and 52% of fish for human consumption.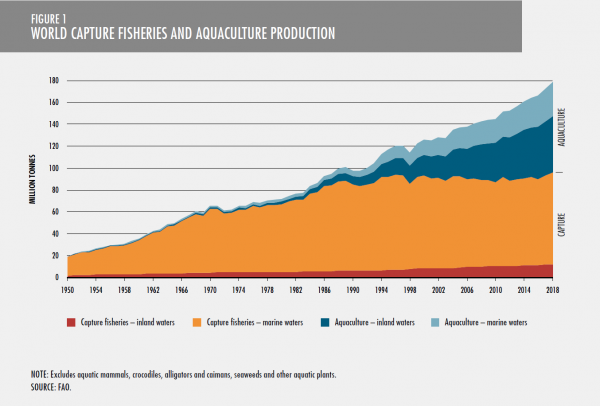 Looking ahead, under the assumption that a post-COVID-19 recovery will hit in late 2020 or early 2021, world fish production, consumption and trade is expected to increase, but with a growth rate that will slow over time. Total fish production is expected to expand from 179 million tonnes in 2018 to 204 million tonnes in 2030. Aquaculture production is projected to reach 109 million tonnes in 2030, an increase of 32 percent (26 million tonnes) over 2018. 
In terms of species, the majority (62 %) of global aquaculture production in 2030 will be composed of freshwater species, such as carp and Pangas catfish (including Pangasius spp.), as compared with 60% in 2018. Production of higher-value species, such as shrimps, salmon and trout, is also projected to continue to grow. In general, species that require larger proportions of fishmeal and fish oil in their diets are expected to grow more slowly owing to expected higher prices and reduced availability of fishmeal.